I first came across the Tecla on Facebook when they posted asking for people to declare an interest in joining them in attempting to navigate the North West passage.  Unfortunately I could not afford the cost of this leg of the voyage but when I saw  they were also sailing from The Galapagos islands to Rapa Nui I signed up immediately, several months before
the trip.
So it was with a great deal of excitement and anticipation when I finally landed in Baltra airport in The Galapagos on 11th Nov.  I checked into my hotel in Puerto Ayora, Santa Cruz and went straight to sleep after 5 airports, 4 flights and more than 18 hours in the air I was whacked. The next day I walked to the famous Charles Darwin Research Station and was given a very informative tour of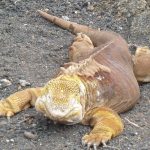 their giant tortoise and iguana breeding programmes. After a visit to Playa de los Alemanes and
Las Grietas for a swim I walked to the beautiful Tortuga bay. Everyone recommended taking one of the tours on Galapagos so after asking around I booked a snorkelling day trip to Isla Pinzón. After a long, fast boat trip I found myself snorkelling with sea turtles and marine iguana as well as a mother sea lion teaching her cubs to dive for a stick. I felt very comfortable swimming with these amazing creatures but all I could think was wow! this is absolutely fantastic, I couldn't quite believe it was happening. If that wasn't enough on our second stop we were swimming with white tipped reef sharks and a sting ray, another surreal experience. A couple of people in the group had underwater cameras so I'm hope they'll share some footage. On our way back to Santa Cruz we stopped off at this rock to see the blue footed boobies and sea lions, I made a mental note to  check the name of the island,  which I later discovered is Isla sin Nombre, go figure! I met up with Claudia and a few other crew mates and started to get to know each other. Unfortunately we found out that Tecla had been delayed in Equador due to the bio-security clean up and was  not allowed to come to Santa Cruz so now we had to meet the ship in San Cristobal. An extra day in Galapagos, what a bummer 😉 It was a
two hour high speed taxi ride to San Cristobal where we met up up with another guest crew for a few beers before finally joining the ship. It was great to get on board to start the next part of the adventure. Unfortunately we had to wait over the weekend for immigration clearance an on Monday we all had to go onshore to have our passports photocopied and then  all taxied up to the immigration building which for some reason was on the outskirts of town. We eventually raised anchor under sail in late afternoon heading South into the big blue. We quickly settled into the routine of watches, eating, sleeping. Or at least trying to sleep with the engine running which unfortunately we had to use when we lost the wind to keep to schedule.
I was on white (wit) watch 04:00-08:00 and 16:00-20:00 which was great as we saw the sunrise then breakfast and we saw the sunset then dinner.  the days started to merge together as they do on long ocean passages as we headed due South 190o a heading that became etched on the memory of everyone at the helm.  To paraphrase Douglas Adams…
The Pacific is big. You just won't believe how vastly, hugely, mind-bogglingly big it is. I mean, you may think it's a long way down the road to the chemist's, but that's just peanuts to The Pacific.
South of the Galapagos, but still near the equator the sunset is very early, around 18:00 but as we got further South it became later each day, but still quite fast, you could miss it just going below deck to get your camera.  On a couple of occasions when the wind dropped we had a swim stop the first was 06o 12′ South 94o 53′ West and the second was 24o 22′ South 107o 39′ West which I can safely say was the most remote swimming pool I've ever been in with the nearest dry land around 2000Km away.
The weather was a bit more variable than expected with a bit of everything really which meant quite a bit of sail setting, reefing and taking down. Although there was very little in the way of wildlife apart from the odd bird now and again there were a lot  of flying fish,  and during the night and early morning many landed on deck in fact I was hit on the back of the head by one whilst at the helm around 05:00. So this little fellow must have jumped/flown  some 15 feet up. Needless to say it came off worse than I did.
After some 14 days at sea we sighted land in the distance on 30th Nov at about 15:30 and eventually dropped anchor in Hanga La Perouse on the Noth of the island.  We celebrated our arrival that nigh which unfortunately (for me) given the combination of darkness, rain, a rolling ship and far too much alcohol on my behalf resulted in my head making an accelerated impact with the deck. The next morning I awoke and the damage and memories became clearer. Needless to say I felt rather embarrassed. With two nurses and a doctor on board I was well looked after and my injury was minor, a lump no bruising and a scar to add to my collection.  The next day we sailed round the island for our first view of the township of Hanga Roa. Later that day we had to go round to the East of the island to shelter from an incoming NW squall. We anchored in the bay near the end of the airport and within sight of Ahu Vinapu, which would be our base until we left the ship on Wednesday 4th Dec.