I've been transferring everything I do with computers both at home and at work from Windows to Ubuntu Linux. 
One of the things I did regularly in Windows was to record either streaming audio or audio from a device plugged directly into my sound card. I have a long term project to get all my old cassette tapes digitized. In Ubuntu 8.04 I installed Audacity from Synaptic, then selected each input device in turn under Edit>Preferences>Recording but none of them worked or produced an error.
The solution was however quite simple and not with Audacity at all. I opened up the master volume control on the Ubuntu panel by right clicking on the icon and selecting Open Volume Control then selected Edit>Preferences.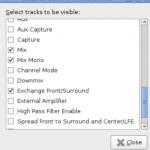 Next make sure the boxes marked Mix and Mix Mono are checked then Close.
Close the Volume Control and then re-open it and select the Switches tab and check the box for Mix and close again. Finally in Audacity in Edit>Preferences set the Playback and Recording devices to ALSA:default. That's it, now anything playing through the sound card be it streaming music or from an external device such as a tape player can be recorded.