When I saw that the Morgenster was taking part in the very first Three Festivals Regatta and was sailing from Liverpool to Dublin on the first leg I didn't hesitate to sign up.  This was the first tall ship I sailed on back in Feb 2017 and I had such a fantastic time it was a no-brainer to join this wonderful ship once again.  I'd never sailed in a regatta before  so I had no idea of what to expect.
I joined the ship in Liverpool on Sun 27th May and it was great to meet all the crew again, and of course the new guest crew. There was quite a good mix of guests with a group from Dublin with Sail Training Ireland, a group of young company sponsored apprentices and the rest of us. 
I was on white (wit)  watch with our first stint on Mon/Tue 00:00 – 04:00. By Tue we were making good speed but the sea was a bit rough and some of the guest crew were the worse for it with quite a few wee buckets being carried around.  By this time we were well ahead
of  the other class A ships, Lord Nelson, Belem and Belle Poule with only one other ship in the race ahead of us, Maybe.  With the wind dying away it was getting more difficult to gain any distance North to follow our planned route around the Isle of Mann, but with a lot of tacking and the skill of our captain Jakob we eventually made headway and rounded the North of the island.  When we did eventually catch some wind we overshot our way point so had to backtrack a bit.  On Wed night we anchored near Lambay Island just off the Irish coast and watched a beautiful sunset.
It has to be said that this voyage was memorable for many, many reasons, not least of which were our musical entertainment, especially the force of nature that was Seamus, a hard act to follow, belting out such classics as 'five fresh fish' as never before.
On Thur 31st May we crossed the finish line in second place behind Maybe but first in our class and anchored just outside Dun Laoghaire harbour.  The next morning we headed off to motor up the Liffey into Dublin making a good show as we were the only ship to set our sails. Later that day we had RTE onboard making a film about the Sail Training Ireland crew members, so we had our wee bit of fame on Irish TV. Saturday was the big crew get together and awards ceremony, which were almost late for but we arrived just in time to hear our ship being declared the winner in class A
which involved a very large cup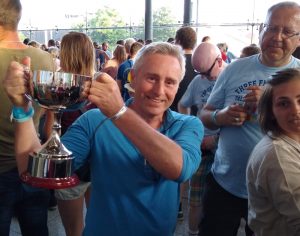 and one hell of a party afterwards. A great voyage to remember for so many reasons, good friends, great sailing, fantastic musical entertainment, beautiful weather and to cap it all "we won"!!!